Remembering all usernames and passwords on the internet is really tough task to do. Writing usernames and passwords in a note book or diary is little bit time consuming and very risky. So what to do?
I'll help you on how to backup passwords list from Mozilla Firefox. Just follow step by step tutorial.
Open Mozilla Firefox and go to Firefox Add-ons page and search "Password Exporter" or else you can download this Add-on.
Quickly install this Add-on and restart Firefox browser.
Select Tools–> Add-ons. Then go to Extensions and search for Password Exporter from the list of Add-ons.
Click on Options, one dialog box will appear on screen (as shown below).Select "Export Passwords" and save them on secure location. You can save passwords in two formats i.e. (.xml, .csv)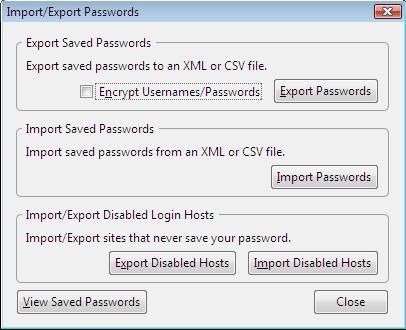 5. That's it! Now you can check the list of usernames and passwords from saved location on your computer.
Don't use this Add-on on public computers where many people use same computer for their work. Even in your own house use it at your own risk, who knows someone may read your private mails or details by using this Add-on. 
P.S.: You can even import passwords from your computer to browser by clicking on Import Passwords option.